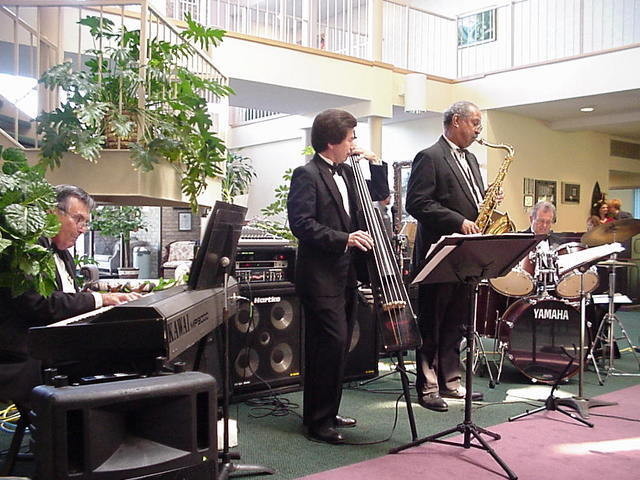 What is the Ken Nelson Trio?
Three jazz musicians, all from other parts of the country who ended up in north Texas.
Shane Ohlson- Shane has his own music publishing company and also repairs and tunes piano in the area. He has a masters degree in music and is the finest jazz pianist in the area!
Logan Walker- The legendary tenor saxophonist with the big Texas tenor sound (although he lives in Lawton, OK) originally from Kansas City. Logans played with most of the greats and has plenty of stories (ask him about Billie Holiday!)
Ken Nelson- From Chicago, string bass, big amp, (I don't like to brag but let's just say I once turned down Sarah Vaughn for a gig...ask me, I'll tell you about it).
The sound: Acoustic jazz quartet doing a lot of great standards ranging from Duke Ellington, some Sinatra, Bill Evans, Coltrane and Parker(when appropriate), Nat King Cole and yes we do take requests. Logan's sound has a big Texas tenor sound with Sonny Rollins influence with some 'trane and a healthy dose of Charlie Parker. Shane is all over the keyboard and sometimes I feel like I am standing next to Oscar Peterson one minute and Bill Evans the next. As a bassist, I am influenced by Jimmy Blanton, Mingus, LaFaro and Pastorious. Without a drummer we can careen with reckless abandon...while still allowing people to talk, eat dinner or dance to the standards!
_________________________

Your friend in the real estate industry- Ken Nelson
940-704-5083